Save the date for our 8th Annual SFTH (formerly DFTH) event being held on Saturday, September 24, 2022!

Dentistry from the Heart (DFTH) was a national non-profit organization dedicated to providing free dental care to those who need it. Every year, individual dentists and practices across the country donated their time and resources to host their own DFTH events.
On October 13, 2018 we held our 6th Annual Dentistry from the Heart event. To date we have been able to give back to our communities over $170,000.00 in free dental care.
Check out the pictures from our DFTH events

---
Alissa, one of the hygienists from our Quakertown Office, visits with the Pre-K class at Richland Elementary School for February's National Children's Dental Health Month. In addition to teaching the proper way to floss and brush, Alissa had the opportunity to read to the class,
The Tooth Book by Dr. Seuss!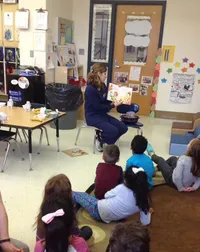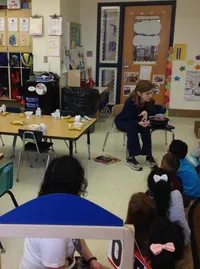 Angelique, a dental assistant from our Red Hill Dental Office visits with the daycare and Pre-K class at Life Quest in East Greenville for
National Children's Dental Health month.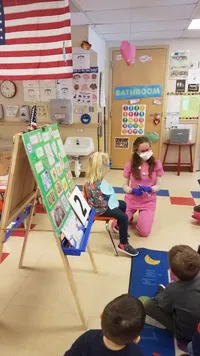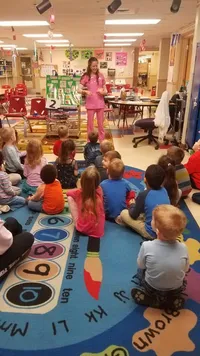 MOM-N-PA Mission of Mercy 2019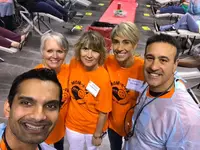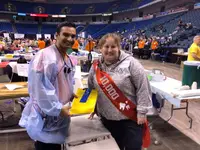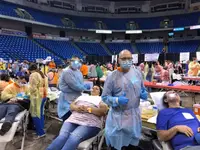 Tim Tebow's Night To Shine Prom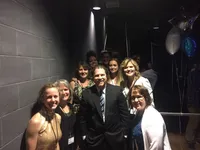 March through June 2017, our offices teamed with the non profit, Smiles for Life Foundation and for a specified donation provided our patients a professional teeth whitening service. Opalescence donated the products and the office donated the time. Of the donations collected, half were given to the Smiles for Life Foundation and their children's charities, and half were given to a charity of our choice.
Our chosen children's charities this year were the Quakertown Borough and Richland Township Police Departments "Shop with a Cop" Program and the Open Link in Pennsburg. We were able to give each charity a check for $3,864.00.
Shop with a Cop is a charitable event pairing a local police officer with a child from the Quakertown Community School District who faces life challenges, such as homelessness, economic shortcomings, military deployment, and other hardships. Children are assisted by police officers and have the opportunity to shop for gifts for their family and themselves.
The Open Link is a local non-profit organization that provides a variety of services and programs to help the Upper Perkiomen Valley community. Some of the donation provided will go to their Adopt-A-Family and the Christmas Room holiday programs.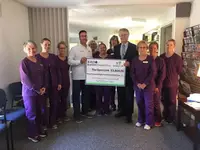 Pennsburg Community Day 2017